Komal oli's objection to Raghuji Pant's statement
---
---
Kathmandu: National Assembly member Komal oli has objected to the statement of CPN (Maoist) leader Raghuji Pant.
In one of the programs, the Prime Minister had remarked that Komal oli had been made a Member of Parliament.
Expressing serious objection to Pant's statement, oli has responded through Facebook , which is stuck in the middle of his tissues formed during human development .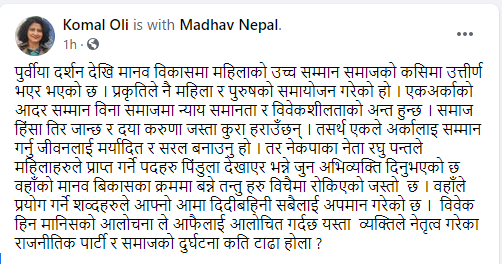 According to oli, justice, equality and discrimination will end in the society without respect for each other as nature has adjusted men and women.
Stating that he would criticize himself for criticizing an irrational person, Wally remarked that the political party and society led by such a person would soon crash.