PM Oli offers special worship at Pashupati temple
---
---
Kathmandu : Prime Minister KP Sharma Oli on Monday offered a special worship at the Pashupatinath Temple with a resolution for global peace and nation's welfare.
On the same occasion, Prime Minster Oli illuminated 125,000 hand-made cotton lamps (batti).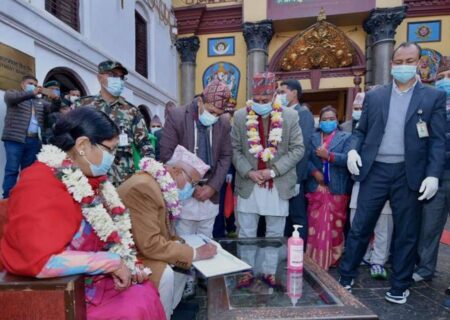 Prime Minster Oli, who reached the temple of Lord Shiva along with his spouse Radhika Shakya at 8.00 am this morning, offered a special worship as per the temple-stipulated procedure, shared member-secretary of Pashupati Area Development Trust (PADT) Dr Pradeep Dhakal.
On the occasion, the prime minster also enquired about the recent activities of Pashupati area.
He directed the PADT's member-secretary and other office-bearers to develop Pashupati area as a sacred land of Vedic religious people.
Also present on the occasion were Minister for Culture Bhanubhakta Dhakal, PM's foreign affairs adviser Dr Rajan Bhattarai and Chief District Officer of Kathmandu Kali Prasad Rijal.
PM Oli was received by PADT member-secretary Dhakal, treasurer Dr Milan Kumar Thapa and member as well as staffs at the Pashupati area.
Following the special worship, Pashupati Temple's main priest Rawal Ganesh Bhatta offered PM Oli with Prasad.